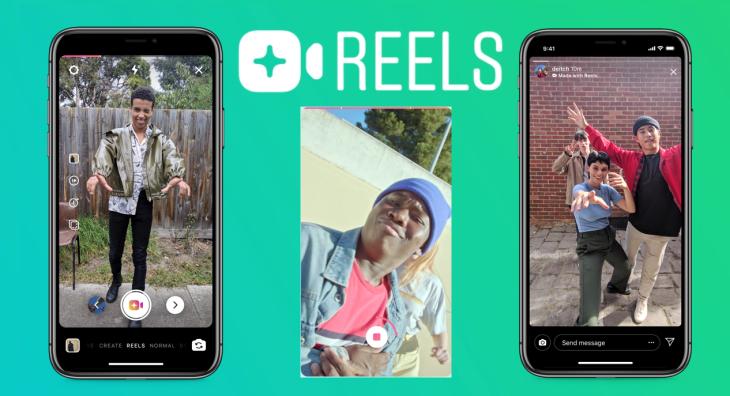 Facebook continues to clone functions of other popular social networks, this time targeting TikTok, the Chinese network that focuses on making funny videos with a musical background. The new feature debuts on Instagram and is called Reels and is already available in Brazil (where it is called Cenas) and comes packaged with a new video editor much more advanced than in the past, along with a very large music library.
Stories, the most popular feature on Instagram, which is available on Facebook, Messenger, and Whatsapp, was "copied" from Snapchat – a reason why Snapchat has failed to grow too much in some regions. Facebook is trying to approach a strategy similar to Reels, launching it first in regions where TikTok is not yet popular, thus wishing to block network expansion and take over the market for funny music videos.
Instagram users in Brazil have a new creation tab in the camera menu, where they can choose a favorite song, record short videos, and then edit them. The result is then published on the user's Story feed. To view only clips from the Reels category, users can go to the Explore tab, where there is a section dedicated to Reels.
In fact, Facebook is not trying to hide the fact that this feature is inspired by TikTok and even recognizes the strategy. Moreover, it is based on the fact that most of those interested in such a function are already on Instagram, and the integration of the function directly into the already existing social network will ensure a rapid growth.
The editing functions are simple to use and still include access to most of the capabilities already present on Instagram such as "stickers" or the ability to add text. You can control the playback speed through the video editor and set a timer for late recording, for times when you record yourself.
"Musically ahead of TikTok and TikTok deserve praise for popularizing this format. However, two similar products are not exactly the same and at the end of the day, publishing music video content is a universal idea and we believe that everyone is interested in using it. We focused on creating a format unique to us. " said Robby Stein, director of product management at Instagram."All your friends are already on Instagram. I think this only applies to Instagram. We are trying to see if this capability will work in countries where TikTok is still not very big, "added Stein.
The advantage of Reels from Instagram over other social networks is that this content will appear in Stories and Explore, tabs of the app where ads already appear, so everything will be monetized from the beginning. In addition to this, influencers with some few thousands of followers will benefit from this new feature by getting more exposure. They can also consider buying Instagram views from services such asBuzzvoicein case they need even more exposure.
Most likely, Reels will enjoy an international launch in the near future, after analyzing the test results in Brazil.