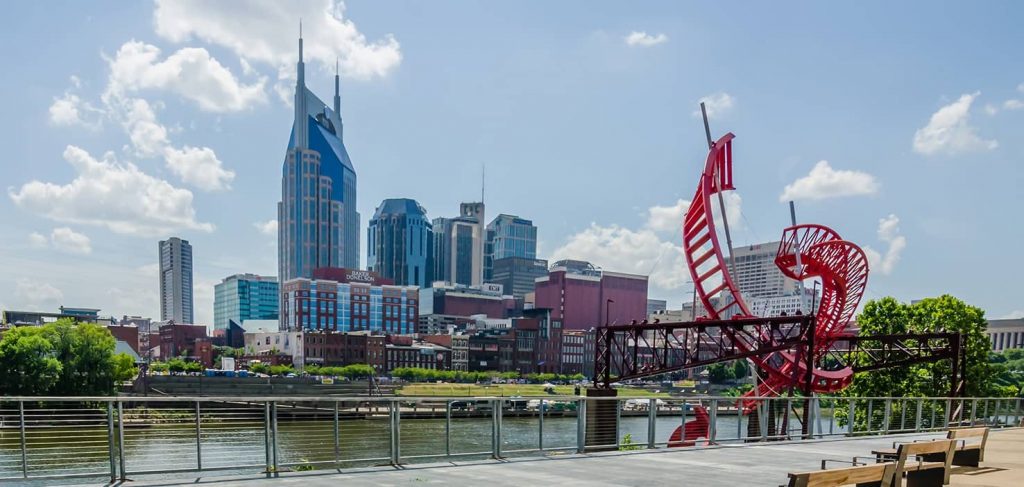 Nashville, Tennessee may be known for country music, but there's far more to this growing southern city than banjos and honkytonks. If you're looking for a vibrant city that's as professional as it is eccentric, this may be the home for you.
Making the Case for Nashville
The Music City is one of the fastest-growing metro areas in the country. It's also one of the larger urban areas in the entire Southeast.
If you're one of the thousands of people who think about moving to Nashville each year, below are some of the enticing factors you'll want to consider.
Nashville is consistently ranked as possessing one of the top music scenes in the entire country. Obviously you have your country acts, but there's also a growing underground and indie scene.
In addition to major performing venues such as The Rhyman and Grand Ole Opry, there are loads of bars and alternative venues in which to catch rising stars.
The food is awesome in Nashville. There are unique restaurants and bars galore, which can boast of some of the region's finest chefs and culinary experts that call the area home. Whether you want southern soul food or trendy tapas, they're all here!
Nashville isn't just an artsy town with lot of musicians. You'll also find some excellent sports action. Professional teams like the Nashville Predators (NHL) and Tennessee Titans (NFL) call the city home. In addition, a minor league baseball team and a Nashville MLS team are on their way and due in 2020.
Looking for a city where you can carve out a lucrative career that's exciting and meaningful? Nashville may be just the place.
"A recent study done by NerdWallet found that technology and health care were the two top employers in the city. So, even if you aren't interested in music, Nashville is a great place to grow your career," Bellhops writes.
"Young professionals are flocking to the city for its exceptional job opportunities and expanding job market that sports an average salary of $50,000. Not to mention, there are several massive companies like Bridgestone Tires and Vanguard Industries with headquarters in Nashville."
Location-wise, Nashville is in a great spot. Birmingham, Atlanta, Knoxville, Louisville, St. Louis, and Memphis are all within a half-day's drive from this area.
That makes it ideal for people who would like to travel around the Southeast, or need access to other major cities for business purposes. Weather-wise, you'll also be happy to know that Nashville enjoys four true seasons throughout the year.
Moving to the Music City
As should be evident by now, you can find plenty of reasons to move to Nashville. But within city limits, there are a number of neighborhoods, each with its distinct feel and amenities. Some of the top choices include:
Downtown. If you're looking to live near the heart of Nashville, in the shadows of the bright lights of Broadway, the downtown area is ideal. It has the quintessential Music City flavor with luxury apartment living.
The Gulch. Over the past five years, The Gulch has become the fastest-growing neighborhood in Nashville. It's just a few blocks from downtown, has easy access to the interstate, and features a great selection of food and drink.
East Nashville. Looking for historic homes with a more vintage feel? Cross over the bridge from downtown and you'll discover East Nashville. It's a creative, artsy area that's known for its distinctive culture.
12 South. Another extremely fast-growing area is 12 South, which is popular among millennials. The houses are older, if that appeals to you, but the new bars and restaurants make it a lively place to end up.
Brentwood. Want to live near Nashville, but in a safe, luxurious suburb? Just south of town, you'll find Brentwood. It's home to some of country music's most famous acts (which ought to give you a fair idea of what the neighborhood is like).
Whether you love country music, art, good food, or anything in between, there's a Nashville neighborhood for you. Visit the area and see what everyone is talking about!