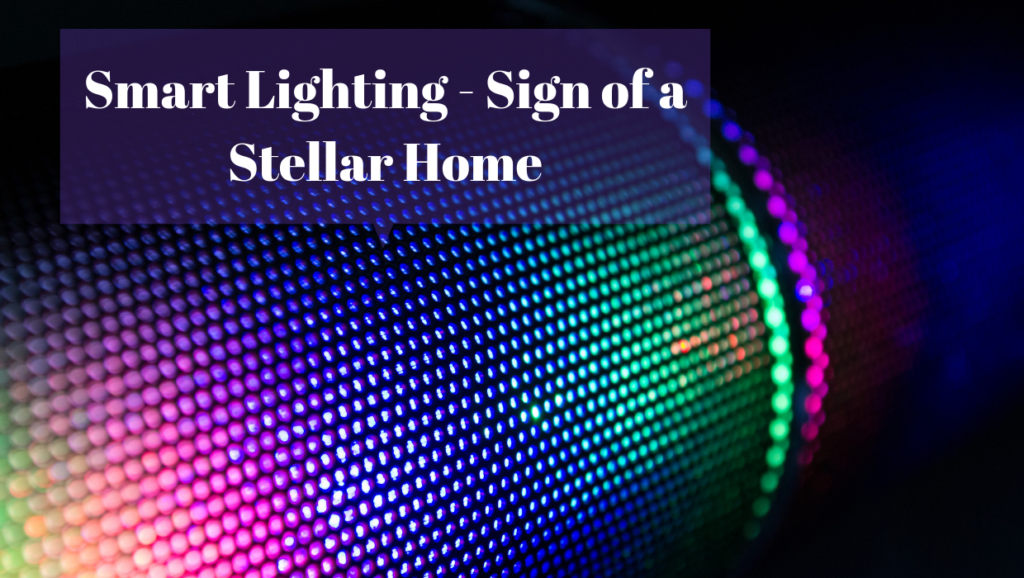 Gone are the days when cave dwellers made 'fire' the sole illuminator of their dark and deadly nights. Rapid technological advancements of the present era have effectively replaced this raw form of lighting. Now, you don't have to gather wood from your surroundings to keep the darkness at bay as your ancestors did. You can simply speak to your AI assistant over the speaker, or touch a button on your phone's screen or even, if you're eccentric like me, clap your hands twice in a row to control the lighting in your house. Such is the massive convenience that has been brought to our generation by the efforts of idealists and developers who continue to explore the adventurous world of science and technology.
And, it's not stopping there.
The road to a digitally enhanced future is in fact just beginning to pave out with these smart gadgets and devices, and if you plan to be a part of it, then I'd say start small. Perhaps, with the lighting in your house. Why not? Read through the following arguments, and you'll be surely convinced by the end. I'll bet a hundred bucks on that!
Knock Some $ Off your Energy Bill
An incandescent light bulb (yes, like the one in your garage) may cost only a few cents, but it consumes about 60 Watts of power while converting only a small percentage of energy into light. This kind of inefficiency speaks volumes when the monthly electricity bill comes in and literally pulls the rug from under your feet.
Thus, I'd recommend you to discard the outdated lighting system and adopt the advanced, energy-friendly LED-based solution as offered by multiple vendors, like Sengled, Eufy, Sylvania and more popularly, Philips Hue.
A 4-bulb Hue 'White' starter kit plus the mounting bridge costs about $90 on Amazon if you're planning on ordering it online over your amazing Spectrum Internet connection. After you install the basic structure, any additional Philips Hue bulb will come for $15 each, but it will be worth it. Because LED consumes only 10 Watts of power while surviving thrice as long as the incandescent in the long run. Think of it as a one-time investment the fruits of which would be reaped month after month.
Saves you the Extra Effort
It's the weekend (thank heavens!), and you've set everything for a Netflix binge that's expected to last all night. The pillows are fluffed, the tablet is ready and the snacks are in their perfect place. The only thing that's left are the lights you forgot to turn off in the living room.
No worries.
Simply give the command to Alexa over the Echo speaker, or to Google Assistant over the Home Hub and see the smart lights automatically turn off in the rooms of your choice. If you're not ready for the voice control functionality, maneuver the lighting through the pertinent app on your smartphone.
Moreover, smart lights come especially handy while you're away on a vacation. Synced with motion sensors or camera alerts, these lights can come on and off inside the house to give the impression of presence and scare the intruder away. You won't even have to hire a sitter.
Smart Lights for Elegant Interiors
Other than this, smart lights create the perfect ambiance for any mood with their color-changing ability. No need to waste your money on designer lamps, when you can simply adjust the hue of the lighting over your smartphone – right?
Smart lighting controls like Lutron Caseta and Philips Hue come with a simple interface for dimming lights – kind of a scene creator – that for instance allows you to vary the intensity of light while you are cooking or dimming them all together so you can watch a movie in a perfect surrounding of your creation. You can also customize 'scenes' according to your personal preference in line with your usage pattern.
If you're someone like me who doesn't like walking in the house when its pitch dark, no worries, you can always use a smart switch to turn your core house lights on before you even enter your home. Your Wi-Fi connected switch will receive signals from your phone before you're in the driveway, making sure you don't have to walk in the dark ever again. Also, this feature can scare away any possible burglars who might be lurking around while you are away.
Comes with Better Security Now
Public paranoia over the concept of connected homes would not see its demise any time soon. That's a fact. It's up to you to decide whether you wish to remain as paranoid or boldly embrace the technological advancement of today with an open mindset even if you cannot rid yourself of the many ingrained apprehensions. After all doesn't everything come with risks? Well, no doubt that is how it is whenever you traverse any unknown territory. But the latest partnerships between smart lighting startups and big-name corporations have indeed come to promise better defense against security vulnerabilities than ever before. So, allay your fears, set up strong passwords, keep your smart home lighting software updated with the latest bug fixes and you'll be good.
It's time to make the Switch
The impact of smart lighting on your home and lifestyle is so spread-out that justifying old-fashioned lighting system is a near impossible now. Smart lighting has truly done justice to the term 'Innovative Variety'. Smart Lighting manufacturers offer lighting solutions to cater to a rather wide range of styles, prices, and utilities so that there's something for every household in it.
What are you waiting for then? Get your own smart lighting kit now and see the tech-savvy benefits for yourself!
A post by Nida Shahid – Business graduate, writer, digital marketer, traveler, Interior design enthusiast, and a proud dog parent. She shares her expertise and writes for businesses to improve their rankings on Google. Probably one of the most amazing things about her is her ability to stay relevant. Her work has been posted on multiple blogs and e-zines across the web.