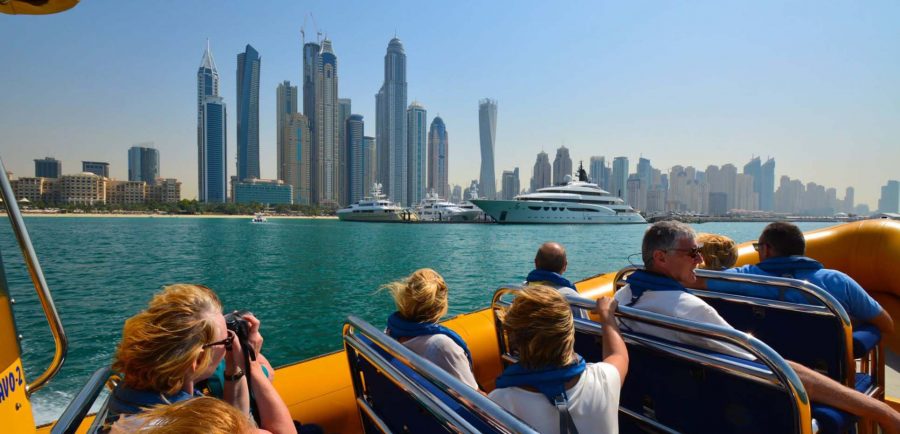 In Dubai, travelers can choose to pass their free time with visits to attractive entertainment centers, nightclubs, numerous markets, and shopping centers. It should be noted that in addition to nightclubs there are the local bars that welcome visitors until the evening. One of the best bars is called Barasti which is in the range of a short walk from the coast. Visitors to the bar can choose one of the comfortable terraces and enjoy the favorite music along with original gifts. Another interesting establishment is the Yarba bar, which is decorated in Indian style and invites guests to participate in passionate oriental evenings.
Nightlife
One of the most popular nightclubs in Dubai is still Garage that attracts visitors not only with its interesting entertainment program but also with original rooms decorations. In the club, there are some buses and cars, to offer accommodation to visitors.
The visitors of the city have access to all varieties of water distractions, such as romantic cruises, traditional driving, night fishing, and other even more exotic forms of entertainment. Many sports clubs and diving centers that operate in Dubai offer night programs to the tourists.
Cruises
The Dubai International Marine club offers boat rental services and different types of cruises. Fishing enthusiasts have the option to go to the Dubai Creek Golf & Yacht club. Of the most popular diving centers, 7 Seas Divers, Al Boom Diving, and Scuba Arabia stand out. There you can book departures to the most interesting underwater curiosities and rent all the necessary accessories.
A perfect resting place for car enthusiasts is the Dubai Kart karting club, which was founded especially for the organization of international competitions.
Entertainment
Dubai is a futuristic-looking city and that is the reason for its informal name: The City of Future. No wonder why many science fiction and action movies are recorded there. For example, movie fans may be interested in knowing that a scene from Mission Impossible: Ghost Protocol was filmed in Dubai, in the Burj Khalifa skyscraper. This is one of the most exciting moments of the film, so it is not difficult to remember the internationally-famous building. Fans of another famous series, Star Wars, will be pleased to discover that Star Wars: The Force Awakens was filmed in the desert of Abu Dhabi, located near the phenomenal city. Consider taking an SUV trip to the desert to see the area where the spacecraft and the tower were built.
There are many other active hobbies available to city guests. For example, you can try water-based entertainment, like all types of surfing, including SUPboarding (Kitesurfing Lessons, SeaYou), catamaran and speedboat (The Yellow Boats Splash Tours, Water Sports on the first yacht), Flyboarding (Nemo WaterSports) , Wave bike rides (SeaRide Dubai), kayaking (SeaYou) and cruises to the most picturesque areas of the region (Xclusive Yachts, JA Bateaux Dubai).
Many travelers who want to raise their adrenaline to the highest prefer the tours at Atlantis Dive Center, during which they can dive and see some of the scariest inhabitants of the deep sea, such as sharks. Although this sounds pretty scary, the dive is absolutely safe and travelers should not worry. First they will undergo special training and then dive together with an instructor. Those who want to try a full tour at the camp will find exactly what they need at Adventurati Outdoors.
If the sky has always attracted you, the services offered by SkyHub Paramotors will be more than welcome. This company offers skydiving and hang gliding over the city while tied to a plane. Does the idea of ​​making a hot air balloon ride sound appealing? No problem! Sindbad Gulf Balloons and Dubai Dunes offer trips in a hot air balloon in Dubai. Such activities explode the level of adrenaline and allow you to admire the fabulous beauty of the city from a bird's eye view. To make any vacation even more diversified, consider taking a helicopter trip over Dubai.
Rock climbing fans will not feel bored in Dubai either. You are welcome to enjoy your favorite activity on Sky Trail and Climbing Wall. Tourists who wish to try the zip line should visit XLine and enjoy unforgettable memories.
Does the idea of ​​riding a funny horse sound attractive? Dubai Desert Horse Ride Experience offers this unforgettable experience. It is also possible to learn to ride a horse and then take a pleasant walk on a sandy beach. Such a romantic pastime will be memorable for life!
Shopping
Shopping fans can choose from a rich selection of shopping centers and open markets that exist practically in every neighborhood of the city. However, the Deira City Center Mall – the largest commercial complex in the Middle East – stands out. In addition to the various shops, there is an entertainment center, a cinema, and some attractive restaurants. The most popular market among travelers is still Gold Souk. There, visitors are welcomed to choose from a wide palette of original jewelry and handcrafted items. Nonetheless, buying souvenirs is better in the Deira Old Souk market.
Families
Dubai is a great option for vacationers with children too. There are many places for families, for example, Aquaventure Aqua Park with its many slides or Dubai Parks and Resorts – famous for its beautiful scenery. That is also a place for many popular children's book characters. LEGO fans will find it exciting to attend LEGOLAND Water Park.
A visit to The Green Planet Zoo will also bring many exciting moments. Families with children will be particularly fond of this place. For children, not many places can compare to a visit to a wonderful zoo. The Green Planet is something like an oasis in the middle of the desert, that has become home to many exotic animals.
Adventure
The city phenomenon has a place that superstitious people try to avoid. Adventure seekers, in turn, simply can't stop visiting it. This is Al Qasimi Palace located in the neighboring emirate of Ras Al Khaimah. It takes a while to get there, but the abandoned palace is worth it. People say it is possible to see ghosts in the palace. However, it is believed that the members of the royal family were tortured there. The forgotten palace is surrounded by a high fence. There is a more unusual place in this emirate: the city of Al Jazirah Al Hamra that is widely recognized as the most famous ghost town in the Emirates.